Product Overview Malz++Kassner CAD6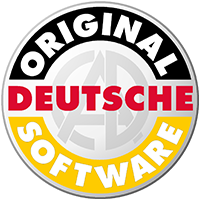 Malz++Kassner CAD6 is a professional, universal 2D/3D CAD software for Windows that is used in all kinds of applications. It runs on Windows 10 / 8.1 / 8 / 7 (32 and 64 bit) as well as Windows Server 2016 / 2012 / 2008 R2 (32 and 64 bit).

A selection of screenshots can be found here.


CAD Software in five editions plus free viewer
CAD6 Studio
Advanced edition with all kernel functions and all essential plug-ins for planning, construction, and visualization. Besides a 2D drawing area the program provides 3D spaces to create and edit 3D components. Import/export filters for DXF, DWG, HP-GL/2, STL, SVG (export only), SHP, DBF, WMF, EMF, and bitmaps (e.g. JPG and PNG) are also included. Use the construction aid and contour tracking to create complex constructions in no time.
CAD6 Viewer
Using the free CAD6 Viewer, everybody can open, view, print, and add comments to your original CAD6 drawings.

All programs of the CAD6 series are 100% data-compatible and contain Smart 2D Technology.



Get to know CAD6 »