Download Current CAD6 for Testing or Updating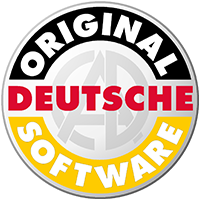 Test Malz++Kassner CAD6 for 30 days free. Just download one of the following levels to your computer, install the application by starting the downloaded executable file and get to know professional drawing with CAD6.

You can also use these files to update an existing installation if your Support & Updates has not yet expired.
Download CAD6 (64-bit)

[MKCAD6English_64bit.exe, 81 MiB]


Download CAD6 (32-bit)

[MKCAD6English_32bit.exe, 79 MiB]



Includes the following three editions that can be tested alternately:

CAD6 Industry
Comprehensive and universal 2D/3D CAD/CAM solution for industrial use. In addition to all features of CAD6 Studio the program includes a CAM plug-in and a universal, script-based post-processor for flexible and efficient generation of CNC data for machine controllers.

CAD6 Studio
Advanced edition with all kernel functions and all essential plug-ins for planning, construction, and visualization. Besides a 2D drawing area the program provides 3D spaces to create and edit 3D components. Import/export filters for DXF, DWG, HP-GL/2, STL, SVG (export only), SHP, DBF, WMF, EMF, and bitmaps (e.g. JPG and PNG) are also included. Use the construction aid and contour tracking to create complex constructions in no time.

CAD6 Pro
Medium level – the entrance to professional CAD. Contains all kernel functions and is extendable with numerous plug-ins.








After 8 days at the latest, you have to register your CAD6 trial version here in order to use it another 22 days for free.

All programs of the CAD6 series are 100% data-compatible and contain Smart 2D Technology.